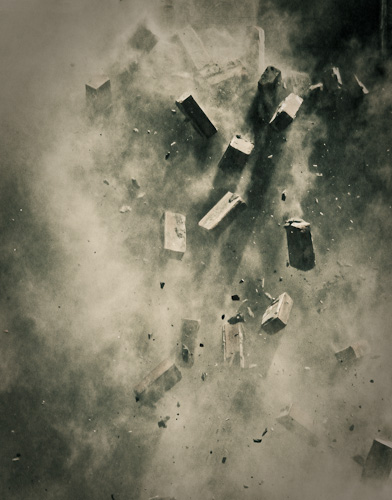 This new article is actually a re-post of one of the my old articles that I wrote almost 3 years ago.
The guy that I wrote about in that article died few days ago, and that is the reason why I am re posting this.
I use to knew him very well, the man that he became at the end was almost a stranger to me.
He did not die shooting an AK47 at the politicians who once "pushed" him to war with their "infinite honor" and "our cause" stories, he did not wrote book about his experiences, he did not become hero.
At his funeral there were 9 people, including guys who are paid to finish the job with shovels.
This man was "eaten" by cancer, and I am sure that cancer started in his soul first.
I drunk few gins for his soul and decide to re-post this.
Message of this is same. Stay out of the trouble and simply do not believe everything, especially if the message is coming "packaged" and in "big words" (Students in USA should take special note of this now…)
Looking for goods and usable items during the war often meant I got myself in some weird situations and scenarios. I knew lots of guys who risked their lives just to go to some destroyed places because they knew they could find some items that meant a lot for them personally, but actually those items were useless in given situation around us at that time.
But people often act like fools and if you find yourself in a survival situation it is the perfect time to lose your life if you act like fool.
Like a friend who lost his eye, just because he went to his house and searched through a closet full of audio tapes in order to collect some of his favourite punk band titles. Not to mention that electricity in that time was something like faint memory, and he could not do anything with those tapes even if he did find them.
Anyway booby trap exploded, luckily he survived, but he lost one of his eyes.
When you have young people or in general, inexperienced people and fighting around you, it is the perfect combination for some people to act like fools.
There is something in dangerous (and new) situations that makes you want to act like fool, and to do stupid things, young folks do that mostly, but it can happen to anyone, it happened to me too.
Good old "stay out of the trouble" advice is one of the best survival lessons one can learn.
Whenever I read on survival forums, threads about gangs and how during SHTF people should get organized and simply defeat them, I remember how young and enthusiastic I was about that too, but luckily enthusiasm went away quickly and I survived.
The problem here is holding onto old concepts and not accepting change. One day you have law and order and you can call someone when you see trouble because it is not right, next day suddenly there is no one to call and you might feel you have to jump in to make things right.
You may find it cowardly that man wants to stay put when bad things happen around him but in reality in most of the situations you can not do anything without huge organisation that helps you and a big personal risk.
My relative was outside the country when the war started, he was working for an electrical company in the middle east. Contract was good, and he had a monthly salary there equal to 6 months salaries here at that time.
On first news about fighting and war, he returned to the country to join the army and fight. Blockades and battles already started and his trip back to his town took lot of time and troubles.
He was 26 year old back then and he told me that when he entered the country at a small city where he and few other guys wanted to join the fighting forces, he saw that war is not like in books and movies…
Military unit that welcomed them asked who they are and what they wanted, they said that they wanted to join the fighting forces. He said he expected some kind of questions about their military experience or similar, but instead of that the small unit commander asked them : "Do you want some women?"
They starred at him like idiots so he explained "We have some enemy women in prison close here, so go there first if you want".
My relative was raised by his grandmother, he was nice kid, no cursing, not too much drinking, he said to me that shock was so big that he could not open his mouth to even say "No man!"
He told me that later he find out that fighting includes doing lots of things in order to win fight and stay alive. He went through lots of fighting, earned the reputation of a tough guy, and one day they got caught up in ambush and he was one of the few who survived.
Machine gun from close distance destroyed his legs and belly. He was removed from the country for rehabilitation, his legs are still there, but only for "pictures".
He is "glued" to wheelchair forever, and no kids, no wife either.
He lives today in small apartment that looks at big chimney of a disused factory, elevator is usually not working, and nobody cares to lift him up and down.
Nobody visits him too much, he is no hero, he fought for something that is now considered " wrong and not needed war" as they say.
Now and then I visit him in his city and that apartment, and every time I conclude two things:
First how lucky I am. Even with all my issues and traumas from the war compared to him, and second is that every time when I left him in his misery and bitterness I am expecting to see in few days in news something like "old war veteran in wheelchair went crazy and start to shoot from AK47 at people in street from his apartment at 6th floor."
I asked him once why he returned to the country at the beggining of the war while at the same time thousands fled? I expected to hear something patriotic or similar, but he said "Man, at that time it was something so exciting and new!"
So just listen to first survival and most important survival lesson: Stay out of the trouble. Life is very real and it is easy to forget how brutal "real life" can be. With real life I mean life without our civilized society or just life without all support and help we take for granted.
I hope I will never have to use everything I trained for or any lesson I share with you here ever again.
Do you have examples when staying out of trouble was hard and about consequences of this? Share in the comments below.
I'm constantly seeing articles with titles like" things that gonna disappear when SHTF" or" things that you need to stock up when SHTF", better still, "Top 10/50/100(!) Items to stock before SHTF" or something in that way.
And then, in the article, author goes with huge number of items that will be gone when SHTF.
These articles, like many, are not 'wrong' or 'bad', but it can be used more as an reminder what amount and number of things we are dependable on in everyday life, other then a list what to buy for SHTF. Unless of course you just happen to have a spare $20,000 to immediately to buy everything on the list.
It is so obvious that when SHTF, electricity will be most probably gone, but does that really mean that you need to run today and buy a generator and huge amount of fuel?
Maybe there are smarter, cheaper things to store, more usable and more "desirable" (for trade) when SHTF….
And again you need to think about difference between what you really need and what would be really nice to have. Necessity vs. Comfort.
I am not saying it is wrong to buy a special bug out vehicle, only for when SHTF, I am saying that I want to give advice about what to store and that items anyone of you can store.
I had always opinion that millionaires do not read my blog (if you do, please feel free to click on my 'donate' button, over there on the right hand side of this page ;), so my advice is aimed at the people who need to take care about every dollar, and who need to invest in a smart way for future SHTF.
Here I will write about two items only that you can and if possible need to store, and reasons why.
Antibiotics (In inject-able format)
Of course, antibiotics are like "must have" items for the time when SHTF.
It is not unknown item for preppers storage, but still there is maybe slight misunderstanding about antibiotics.
I know there are thousands of pages about "fish antibiotics" out there, and I can only say that if you can not buy antibiotic in better forms then buy that one and have it.
But you need to know that sometimes, actually when SHTF very often only real antibiotic is Penicillin in a form of injections.
There are numbers of reason for that, like severity (prolonged time) of infection, needed levels of antibiotic in blood…etc
You really really need to know that very often "attacking" infection with "fish-mox" for example or even real Amoxicillin  will be like you are pissing on the forest fire in order to put it out.
It is useless.
I just took this photo, it is "one round" or one dosage of PNC for a fully grown adult, it covers huge spectrum of infections, (of course you would need several shots), it is small, easy to store and easy to carry.
One "full treatment" of several vials + water for dilution can fit into your jacket pockets and in your pants pocket you can fit needed syringes and needles.
When SHTF, in those pockets you have the means to save somebody's life, yours, or your own kid, or simply you can trade it for really cool items.
Now imagine that you have big stash of these.
It is hard to get it there where you live probably, I understand that, but simply I do not believe that it is impossible.
You are preparing for end of the world, for chaos, for violence… I just can not believe you can not try to look for the info. where you can get these without prescription and cheap.
Try!
You can store it only for trade, but you can learn how to administer it too.
Procedure for administering PNC (and other injections) can be taught too, and actually it is pretty simple ( I will be teaching this as a module in our new, soon to be released, course).
There are possible complications, possible mistakes of course, and I am aware it is illegal for non medical personnel to administer injections of PNC, but again, you need to think outside the box – it is better to have something and to learn some technique and then never use it, than to not know it and be in dire need of use of it.
Invest in reading about antibiotics; types, allergies and substitution, and ways of applications. Buy a Nursing drug reference book, and find some nurse or medic who is willing to show you how to do it, you do not need to fly to me in Croatia only to learn that particular technique. That said, this and the other things I will be teaching in that course will be worth it…
Condoms
Yes, other item are condoms.
I watched a video about a week ago, about what condoms can be used for in survival situations, and actually I liked the video.
I did not know lot of those uses mentioned.
But here I am talking about best survival use for condoms, and it is what they are meant for actually.
Maybe you think that sex will stop to exsist when SHTF, but actually it is not true.
Sex was there in my SHTF, actually it will be there always, it is natural, and it is in human nature to be there.
Now one more thing will be there when SHTF, and it will be much bigger problem then in normal times –  sexually transmitted diseases or STD's, especially in prolonged period of collapse, it is simply again thing of human nature, lack of hygiene and medical care etc.
So after some time condoms will be valuable.
And again, they are small, easy to carry and store, and cheap as of right now, today. It is not a huge investment to buy 1000 condoms and store them somewhere.
So as a conclusion, it is not about what things will be gone when SHTF, it is about what of those things make sense for you to have, what you can afford to stock today, what will "pay off" the most when SHTF…
But most importantly – again it is about thinking out of the box.
Out of interest, what items have you been stockpiling for 'trade' and such? Let me know in the comments below. More importantly let me know WHY you are stockpiling these things…?
In one comment on my previous article I received an excellent comment (thanks Nick!) about what lessons he learned while going through Hurricane Irma, and how that event change some of his views about prepping.
He got the points that I wrote about for long time ago, and I still repeat it from time to time, it has to be repeated because you see it as my words only, and most of the people will understand it only in the  proper way after they experience some serious event, only then you can put it in correct perspective.
Nothing like real life experience learning.
And there is nothing wrong about changing your (survival) system, I do that too when I figure that something works better then plan (or equipment) that I have.
If you are prepper for years and you did not change your setup and plan from day one of your prepping until now, then usually something is wrong with your philosophy.
"On a Good Day I can…"
 I think it was on some forum or in some blog comments, discussion was about some particular weapon as far as I remember, and some guy said like " (when SHTF) on a good day I can shoot (kill)…"
In that short statement ("on a good day") is condensed one of the biggest mistakes about prepping in survival movement.
There is not too many good days when SHTF. It is simple like that.
In short people are prepping based on imaginary perspective how SHTF gonna look, and that alone is not problem (you do not necessary have to go through serious SHTF event in order to be good prepper-survivalist), problem is that people stick so hard to their imaginary perspective of how SHTF gonna look like, and what they need for it, that they are simply not willing to change their plans.
They are sure.
Whenever I read that someone change his plans based on his experience and thinking and that he recognize that in my articles or courses where he was wrong I feel great.
By the way, on a good day you can sit down and shoot 6 magazines from AK in 5 minutes and shoot 5 people who wants to break in your home while you are singing "Hey Joe" without too much problems.
You are fed, secured, comfortable, warm, healthy, probably police gonna come in 10 minutes, you'll get professional psychological help later, maybe you end up in local newspaper as a hero…
On a ordinary day during real collapse, chances are that you'll be tired from days and nights of not sleeping well, more or less hungry, maybe you gonna have weird and painful infection in your groin from lack of proper hygiene and serious case of diarrhea, your younger kid having pneumonia and of course doctors are gone, and your friend who is a veterinarian gave you some pills and you are not sure is it working, your wife had nervous breakdown and you do not have clue what to do with her…
You were listening to screams from town for weeks while gangs were killing and raping, and your bones melted from horror.
Several times strange idea of killing your family and then yourself struck your mind, because listening to screams for weeks put pictures of what kind of things are happening there, and you can not cope with that pictures.
And then there are 5 people attacking your home, they even yell that they gonna spare all of you if you give them all your preps, but you're thinking about screams, but still maybe they spare you…
It is definetly not your "good day".
You need to hope for good days when SHTF, but you need to be prepared for bad days when SHTF.
"Heat"
It is equation that takes in consideration your skills, preps, event, circumstances… and given heat (SHTF).
If you show me man who can have all prepared perfectly well for any kind of possible scenario I will bow to him, but, in my mind, it is simply impossible.
If you understand that then you'll understand two things:
-you'll need constantly to adapt to the given situation
-you'll have bad days and fails
But you'll have a good chance to survive. To show that in an example I'll use very widespread and popular topic: Bug Out Bags
It is something like holy grail of survival, and it is like a minefield to go into that topics against widespread and popular opinions in survival community, but I'll survive, and you just need to think about it. So here goes…
Bug Out Bag (and equipment)
Bug out bag is something that is considered you "absolutely need to have" or otherwise you are not a prepper….
So there you have situation where people (family) have bug out bags, each member of family have his own BOB.
Yours might weigh 25 kilos. You have everything there, food for three days, toilet paper, axe and knife, tarp and small stove, extra ammo, first aid kit and lot of antibiotics.
You have maps and radios.
It is heavy duty military grade backpack, waterproof.
All members of your family have BOB with good and usable stuff inside.
And then city erupt in violent protests for whatever reason and you need to bug out immediately.
You all grab your BOBs go out and get shot after 300 meters just because you have such good and cool looking stuff on you (and in huge amounts)
Or simply you drown in the river because your backpack is too big.
I understand that this example is very rudimentary, but you need to stop thinking that you can cover everything for every scenario, otherwise you end up covering nothing.
BOB is become almost burden because we are being bombarded with info "what we really need to have in order to survive and thrive" or "you must have this or othervise you end up dead for sure".
BUT it really needs to be about necessity, not comfort.
There is "prepackaged first aid kit for your BOB" with nonsense inside, there are stoves that are heavy and give your position away to everybody from 2 km distance, there are ways to start your fire that takes like half hour to start fire and require like 1000 calories of your work… does anybody use lighter anymore for starting fire?
"what if lighter fails"?
Can you have 2-3 lighters for that case?
There are powerfull torches that make" night look like day" for only such and such amount of money…and if I want to read my map in the middle of nowhere using that torch I'll be blind for next half hour, but if there anybody within 3 kms of my position they all will know where I am.
Again, all above are examples, and torch lamp and flints are great stuff,and definitely they have its place (I have it) but did you think to include lighters and micro lights too?
Example of solution would be "shelf" system. You need to have lot of stuff ready to take really quickly, but based on given scenario.
Some things can cover all scenarios, basic things, but why in the name of 'everything covered' anybody would drag big heavy bag when you need speed and "blending".
Is having sport bag for a given scenario not make more sense than a camping backpack or military type backpack?
Is carryng rifle in your hand having more sense then hiding under coat in given moment in scenario?
Maybe simple sleeping mat being visible on your backpack clearly points you as a target in given moment? Maybe moment demand only heavy duty trash bag in your pocket (as a mean for sleeping on a way to your BOL)
These are only examples, but hopefully you get my point.
Sit down, pull all your gear out, and think about 5 possible SHTF scenarios, and that you have 10 minutes to choose only 30 percent of your BOB stuff, see the difference in equipment selection for each scenario.
It is good practice.
It is reality – you cannot have everything.
Find The Balance
You may find that at the end it is about balance how much preps you have in your home (or willing to carry) with you.
Sometimes it affects your mobility and adaptility.
Sometimes you grow huge connection with your stuff and you are not willing to leave everything and run to save your life (because you have valuable things)
Sometimes all your cool preps will save your life!
Metal container with 300 $ worth of preps inside that you took and bury in woods as your secret stash can worth much more then 50 000$ worth of preps inside your home, simply because you maybe had to leave your home in 10 minutes in order to survive…
It is balance that can not be taught, because you need to put it in perspective of your given circumstances.
There is no magical solution to "survive and thrive when SHTF  (for only $99.99)" there is no "prepackaged perfect solution" products.
YOU need to pack your solution!
Updates via Email