by Selco
Editor's Note: Did you ever wish you could drop everything and fly over to the Balkans to be trained in urban survival by Selco? Wouldn't it be great to be able to pick his brain and have him beside you as you learned to deal with an SHTF scenario? Well, here's the next best thing. Selco recently finished teaching a hardcore 5-day course in Croatia. With 6 students, they went through high-stress exercises and learned about living through an all-out disaster where danger lurks around every corner.  Selco has generously agreed to write a series for us so that we can learn from him. It's not quite like being there, but it's the next best thing. ~ Daisy
What to Pack for a 5-Day Urban Survival Course
We have just finished our flagship Urban survival course in Croatia.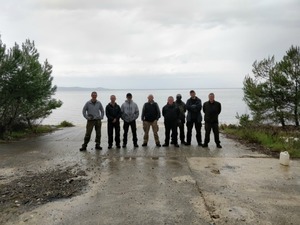 For 5 days Toby Cowern and I, as instructors, taught students skills and through the different exercises and scenarios, we stress-tested their knowledge and abilities.
For me, the most important thing was to give them a piece of the mindset needed for a real SHTF event and to give them a clear starting point from where they can build more skills, knowledge, and competence.
In some moments it was hard for them, both physically and mentally, but one of the most important points, of course, was to test them in not so perfect conditions.
The whole course cannot be transferred here for reading, but some highlights can be given in a series of articles, reflecting on the most interesting moments of each day. This time, we will start out with the gear necessary for the class.
Equipment (items that  you have with you)
I am a very big fan of carrying items that are multipurpose, and I have adopted over the time the philosophy that "less is more." In reality,"more skills-less items" is the key to survival. That said, I am aware that we will have many items in our backpack when we talk about urban survival.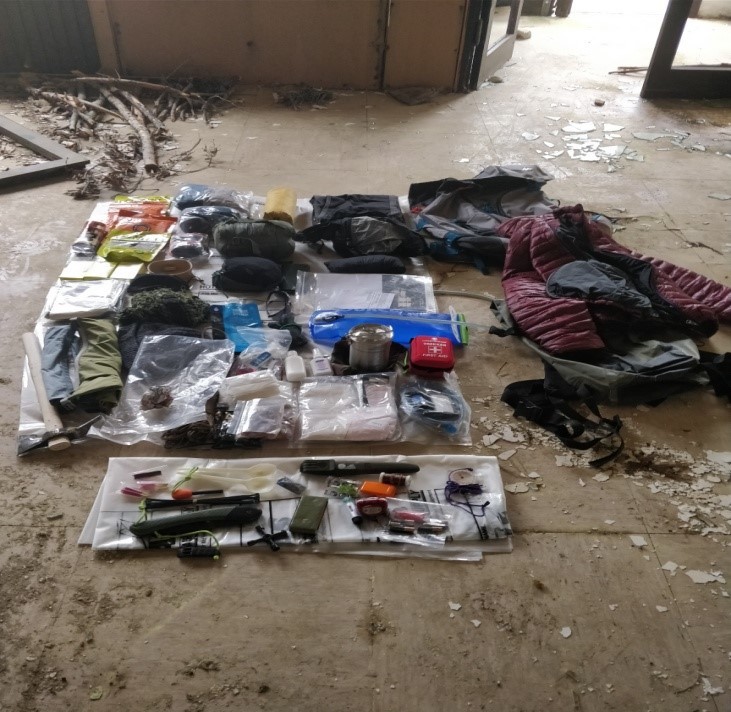 Because there is a big chance the items that you carry are gonna be used when you are in a hurry, in danger, in the dark, or simply when you are very tired, those things need to be organized in a practical way.
Add to that fact, there is a chance that sometimes you'll be in a situation to lose (or throw away) your backpack, then it makes more sense to organize it.
The whole philosophy of having one bag (or backpack) that have "all that you need inside" is kinda wrong if ALL important items are inside.
It is essential to think about "layers" of equipment.
Everything that you carry with you must have a clear role in your survival, otherwise, it should not be in your backpack (or on you) so think about the "comfort vs. necessity" philosophy.
It is very good to have many items, but it is not so cool to go through a tough situation with 50 kg backpack on your back, so choose carefully what you gonna have.
You should organize it in layers.
Let's take the "fire" category, for example. In the first layer you could have small fire starter around your neck, the second layer is lighters or matches in your waist bag or pocket, the third layer is fuel cubes or whatever other fire help you have in your backpack.
For the food category, you may have power bars in your pocket and then in your backpack, you may have food that is more adequate or "serious".
It is easy to follow this logic and organize other equipment in the same way. Sometimes you do not need (or you can not have) 3 layers. Sometimes only 2 layers are possible.
It is important to understand that you need to have layers so you maximize your chances for success when you lose equipment, for example, while running away from some danger and throwing away your backpack.
First aid kits
The best example of what often goes wrong with buying, packaging and carrying items are first aid kits.
There are many reasons for that. A few are:
People buying "pre-made" first aid kits with useless things inside
No knowledge of how to use items in first aid kit
No knowledge of what is really needed to have in a medical emergency and what not to have
So as a result, a lot of people have their first aid kit buried deep inside their backpack, or some of them having their first aid kit on a belt but inside they have painkillers, antidiarrheal medicines, a few plasters (band-aids) and nothing more.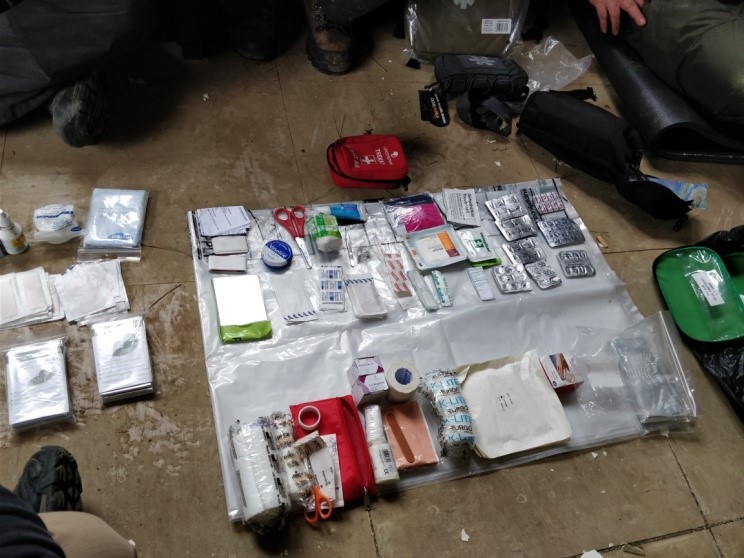 I agree that plasters, antidiarrheal medicines, and painkillers may have a place in your first aid kits but use common sense and think about:
what is really important and can make difference in seconds or minute
what needs to be available all the time, and in an easy and fast to access way
Again, think in layers.
So, of course, you can have antidiarrheal medicines, plasters, painkillers, and hand sanitizers but in your first layer (available immediately) need to be items that can save a life in a matter of minutes, for example, shears, field dressing, bandages, tourniquets, and similar.
If you got a headache you will not die if you do not take a painkiller in a few minutes, but if you get serious wound it may be different if you do not act fast and have the means to treat it immediately.
The best way is to package your own kit, based on your circumstances and your needs. But be sure that you know about every item inside, how it works, and try to test it in the best possible way.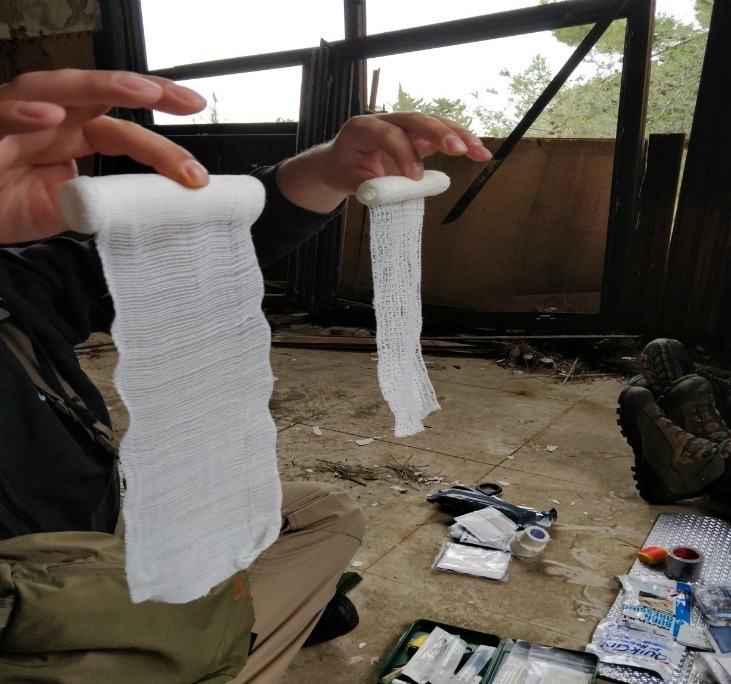 In the photo above, there are two bandages. Each of those bandages was packaged, and for an average man both are just bandages: they look the same and they are supposed to do the same job.
Actually, the bandage in my right hand can do the job like 3 bandages in the left hand, because of the quality, elasticity, texture, and density. Just test everything or you never know what you have until you really need it, and then it might be wrong.
If somebody told you, for example. that you need to have scissors (or shears) in your first aid kit (and he is right) then be sure to test quality of that item because you may find out that in the prepackaged kit you have something that can not do the job needed even for a sewing kit, not to mention working with heavy fabric to treat a wound.
A small difference like having paper medical tape or heavy-duty tape can mean a lot if you are doing something important like treating a wound in a rain-soaked environment.
Clothes
Over time I have started to believe that word "tactical" has become one of the worst enemies in common sense prepping/survival today.
We have tactical caps, tactical boots, pants, stickers, and whatnot.
People start to believe that by buying an item that is "tactical" (or manufacturer states it is) they are solving huge problems in their survival.
In reality, a lot of the items that are "tactical" are actually produced to look nice and cool, but have many flaws that are not so tactical.
For example, if you have tactical camo urban survival jackets that make you stick out so bad in an urban setting, there is nothing tactical about that.
Or there are survival tactical pants that have cool pockets for your stuff and look really cool. But when you walk they produce a hissing sound (because of the fabric) that on a calm night and "tactical" situation can be heard 100 meters away.
Or urban survival tactical bags and pouches with cool fluorescent emblems on it that makes you shine so cool in the dark, but also make you visible when you maybe don't want to be seen.
Being seen and heard from a distance makes sense in some survival situations, but in others, it is completely undesirable and dangerous. Choose your clothes based on that, not based on how "tactical" they are, or how cool they look.
Stay tuned.
Be sure to watch for the next articles in which Selco "takes us with him" on his Urban Survival Course. Learn more about his online courses and his physical courses.
More information about Selco
Selco survived the Balkan war of the 90s in a city under siege, without electricity, running water, or food distribution.
In his online works, he gives an inside view of the reality of survival under the harshest conditions. He reviews what works and what doesn't, tells you the hard lessons he learned, and shares how he prepares today.
He never stopped learning about survival and preparedness since the war. Regardless what happens, chances are you will never experience extreme situations like Selco did. But you have the chance to learn from him and how he faced death for months.
Real survival is not romantic or idealistic. It is brutal, hard and unfair. Let Selco take you into that world.
Read more of Selco's articles here: https://shtfschool.com/blog/
And take advantage of a deep and profound insight into his knowledge and advice by signing up for the outstanding and unrivaled online course. More details here: https://shtfschool.com/survival-boot-camp/
About the Author
Please feel free to share any information from this site in part or in full, leaving all links intact, giving credit to the author and including a link to this website and the following bio. Daisy is a coffee-swigging, gun-toting, homeschooling blogger who writes about current events, preparedness, frugality, and the pursuit of liberty on her website, The Organic Prepper. Daisy is the publisher of The Cheapskate's Guide to the Galaxy, a monthly frugality newsletter, and she curates all the most important news links on her aggregate site, PreppersDailyNews.com. She is the best-selling author of 4 books and lives in the mountains of Virginia with her two daughters and an ever-growing menagerie. You can find Daisy onFacebook, Pinterest, and Twitter.
Barter is a hot topic in prepper circles, so I thought we thought we should tap into Selco's knowledge more deeply on this matter.
How quickly did people turn to barter once your city was locked down?
It was a matter of a few weeks.
Actually, for ordinary folks, it was a matter of few weeks because we did not get the new reality right at the beginning of everything.
Later when I remembered that period, I realized that even right at the beginning of SHTF there were people who did not want to take money for goods. They asked for valuables like gold, jewelry, or weapon for goods that they had.
Some of them were smart enough to realize that money was gonna become worthless really soon, and even gold and jewelry were only good in the first period, and then only if you had a connection to outside world to exchange it for something useful.
Ordinary folks needed few weeks. It was a process that went from buying goods with money, then buying goods from people who still wanted to take money (at outrages prices) to the moment when money was worthless, and only goods for goods were accepted.
It was rare, but sometimes you could find someone who would sell you something for foreign money but at the 20-50 times bigger prices.
For example if pack of cigarettes cost around 1,50 German Mark (outside of the war region) we could buy that pack for 40 German Marks.
US dollar and Canadian dollar had even worse value.
Obviously, people would accept that money had connection to the outside world, and some of them ended up as millionaires because of that.
Same ratio was for precious metals and jewelery.
For small and quick trades, the usual currency were cigarettes, because of the percentage of people that smoked.
Even values were expressed often like "Oh, that's worth 10 cigarettes." In other situations it was ammunition-bullets.
How were trade items valued? If someone wanted to make a trade, who set the terms?
Nothing was fixed.
Through the whole period, the value of goods went up and down based on a lot of things.
For example if a UN food convoy managed to enter the city and some local warlord (usually) took it all, and the majority of the food was cans of fish, you could count on the fact that that month those types of cans gonna be cheaper then the month before. Or if that day's US airplanes managed to "hit" with airdrops in our area then MREs were going to be bit cheaper to find.
Sometimes a simple rumor (planted by rival groups) for example about "poisoned" cans of cookies meant that people did not valued it so highly anymore.
Some things did not change value too much during the whole period, like alcohol, simply because it was available.
Other things' value was a matter of the situation.
For example, if you had a sick kid at home, and you needed antibiotic and you spread that word, you could expect high price simply because you give that information that you need something really hard and fast.
But usually, we knew the value of things (goods) for that week for example, at least approximately.
What were the general rules of trade during this time?
The value of things and trading "rules on the ground" were similar to trade rules at normal life flea markets.
A few of those "rules on the ground" during the trade were:
If YOU need something then the price is going up. (Do not look like you desperately need something.)
Do not offer all that you got in "one hand" or on one try. (Do not go to trade with your best shots all together, it looks desperate, and you are losing all the advantage then.)
Do not ever give a reason for someone to take the risk of attacking you because you have way too cool stuff (or way too much stuff) with you. (Have some amount of food, or ammo, or whatever, do another trade at another time with more of that. Remember people will take chances if they calculate it is a risk worth taking.)
Never give info how much of the goods you actually have at home. ( The reason is same as above.)
Never do trade at your home (unless you trust the person 100%) because you never know to who you are giving valuable information about how much you have, what your home look like, how many people are there (defense) etc.
Doing the trade in other trader s home might mean that you are at his "playground" (or he is stupid) so you are losing the edge. You are risking of being on unknown terrain. Always try to choose neutral ground somewhere that you can control the situation, giving the opponent the chance to feel safe. (But not safer than you).
It is most important that you understand when SHTF (for real) system is out, and only thing that protect you from losing everything is you.
Trade is gonna be a matter of carefully planning. It starts with information about who has something that you need, then checking that information, and rechecking, and then sending information to him that you want to trade, then setting the terms about the place and number of people where you're gonna do the trade.
Usually, there was a rumor or information about who was safe to trade with. There was information about people who like to scam other people during the trade. If you did a good and fair trade with a man you could "save him" as a safe trader (to some extent) for future trade.
Everything else is matter of trust and skills.
Maybe, just maybe, if you are living in some nice small town there is gonna be something like a market, where people freely gonna exchange their goods between each other.
I never saw anything like that because it needs some kind of system to back it.
Trade when SHTF is a high-risk situation simply because it is about resources, and there is no law, no system.
Are skills or products more valuable?
In the long run, skills were more valuable, simply because you can not "spend" your skills.
If you had medical skills you could expect that people over the time (through the word on the street) will hear that, and that you simply will have opportunities to get something for that skill.
I pointed out in an earlier article that when a serious collapse happens, things fall apart around you fiscally, there are no services, so skills for "repairing" were valuable, and so were technical skills.
Medicines were substituted with home (natural) remedies so knowing that stuff was valuable, making simple cloth pieces was good, and repairing weapons. I knew people who did good because they made very basic cigar holders from wood and empty bullet shell simply because people smoked bad tobbaco hand rolled in paper.
Skills that made the new reality easier.
Skills were also more safe to trade simply because by attacking and killing you, the attacker cannot take away your skills from you.
What were the top physical items for barter? Do you recommend that people stock up on things specifically for barter? If so, what kinds of things?
In my case those were MREs, meat cans, alcohol, batteries, candles, cigarettes, weapons and ammo, drugs, and medicines… but if we are talking about the future, preparing, some things need to be mentioned.
There are lists about "100 things to store for SHTF", and while they are good lists, they may be completely different from "100 things to trade when SHTF."
Obviously when SHTF you will miss everything, because the "trucks are stopped" and there are no stores and normal buying.
The basics that you need to cover are something that every prepper already knows: food, defense, water, shelter, fire, medicine, and communication.
Out of these essentials, you go in deeper. Like under medicine you'll have antibiotics but also some knowledge about natural remedies. Under food, you'll have cans but also some way to produce food like seeds or hunting or whatever.
If you are PLANNING to store things for trade then you need to have a strategy for that.
Let's say you are storing huge amounts of food for you and your family for SHTF but you are also planning to trade that food for other items when SHTF.
Some advice for people who are counting to store things for trade are:
Store things of everyday use, nothing too fancy. For example store rice or pasta (if that food is common in your region), lighters, batteries, or candles.
Store small things, or in small packages, stuff that is gonna be easy to carry hidden on you, in your jacket, for example, lighters, spices, cigarettes, quick soups… not cannister of fuel, bags of wheat. I am not saying not to store fuel. I am saying it is much better to carry 20 AA batteries to trade then a 20-liter canister of fuel especially because value might be similar. Remember, do not give reason to anyone to take the risk of attacking you because you have something.
Think about things that are cheap today, may have multipurpose uses when SHTF, and do not take too much space to store (alcohol pads or condoms for example).
Think about things that you can "sell but keep". For example, a solar panel with a setup for charging batteries for people. You are selling charging of batteries to people.
NEVER be the "big trader" or the person who has a lot of interesting stuff. Be the small person who is gonna offer good things through the network of a few people. Being big trader means attracting too much attention with too many cool things that you have. Hide your trading activities through a network of other traders.
Understand today's value and the value when SHTF. Think about the small things that save lives, antibiotics, anti-tetanus shots, povidone pads [iodine]. For example, candles are really cheap today but will be rare when SHTF.
Do not underestimate things that are people addicted to, no matter what you think about it. Cigarettes, alcohol, or coffee (or whatever is case in your region) – the value will go way up.
"Store" skills and knowledge. It is best investment. Learn skills that are gonna be valuable like gardening, shoe repairing, clothes making. Maybe you can be the person who has knowledge about natural remedies.
Should you have precious metals as a means for buying goods when the SHTF?
Through human history, gold and silver were valuable. They were used for getting goods in all times, including hardest times like wars and similar.
Having precious metal for SHTF is big in the prepping community but I need to point out some things.
The value of gold went down during SHTF so much that you need to think about it very hard.
For example, in normal times (I am using these numbers as an example) you could buy with one gold ring 300 small cans of meat. When SHTF you could buy 20, and you could buy 20 if you could find a man who wanted to take that ring from you.
He did not usually want to take it because he could take stuff that he could immediately use, like weapons, drugs, or medicines.
He simply could not do anything immediately useful with it.
Having precious metals is a great idea for later, when some kind of system jumps in, because they are gonna be again precious.
Right in the middle of SHTF, the value of it is poor.
That is one of the reasons why some local warlords came out as very powerful people after everything. They simply took precious metal from folks for a "can of the soup" value (or sometimes for nothing) and they had enough power to store that metal for the time when it would be valuable again.
Do not throw everything into precious metals. Store immediately useful things.
What were the top skills?
It was simple: skills that you might use to kill people or to heal them.
So fighting, security, medical skills, knowing herbal remedies, repairing a weapon, making a new one.
Right after those skills were skills about food.
Knowing what kind of herbs around us you could eat, or even knowing what kind of tree bark you could eat maybe, how to make some plants edible mixed with other ingredients, how to repair clothes and things in your home.
Were there markets for bartering or did people mostly do this in private?
In one period of time there was something like a market, but it was strictly under control of local warlord, so it was not smart to go there since you really could not know what to expect.
Almost all the trades were made in private arrangments after you got information about someone who had something that he wants to trade.
The best situation was if you knew that person prior the war so you had already built trust from before.
Scams were usual, attacks during the trade happened too, especially if the value of goods was high.
If you need to trade for something, do that in advance. In other words, do not wait to be completely without food and then go to look for food through the trade, because you are under pressure, you are desperate. It is not a good setup for trade.
How did you remain safe when trading goods and services? What were the risks?
The basic rule is not to go alone to trade.
The reasons are very simple because you have resources with you for trade, you are possible target so you need more security – more people.
The trade place usually needed to be checked for possible ambush or scam setup. You needed people for that.
You needed a guard during the trade, someone to check up things during your negotiation with the other trader, someone who was going to watch for things.
The ideal number of people was 3.
The risks are scams (bad goods) or an attack.
You could lower that risk by trading with known people or simply by showing enough force so that they understand it is not worth the risk.
Scams were avoided by checking goods of course. If you are buying batteries you need to check them all. You need to taste coffee – is it mixed with old coffee that was used and dried? Cigarettes packs were carefully opened and 1-2 cigarettes could be missing and the pack glued again.
It was like a chess game. 
What are some myths about barter that most people think are the truth?
Trade is probably the survival topic with largest number of myths.
It is partly because we like to think that somehow the world will collapse but the majority of people will live by the rules from normal times, and partly because we are influenced by movies, shows, and fiction books. 
"When SHTF people simply get all together and help each other, and that goes for trade too."
No, actually when times get really hard people jump into survival mode, or perish.
For you it may mean that you 'l be nice, and do only good things, for another, it may mean that he will do whatever it takes so he and his family survive.
That may include killing you over 3 MREs during the trade.
"When SHTF I will thrive because I stored a lot of things for trade, and I will simply be the biggest trader." 
It is possible. People did that and survived. And even got rich after everything was over.
But they had gangs around them, enough manpower to protect the goods, the control to not be overrun, and they were ruthless.
Most probably, you are an ordinary person who just wants to survive SHTF. You do not have 100 armed people with you. You just need to be small and careful.
You are not a warlord.
"When it comes to trade it is all about weapon and force."
Actually, it is not.
It is about the correct mindset to decide what makes sense in that moment and what you really need (and what you do not). Weapons help a lot but do not solve the problem alone.
It is very similar to bargaining at a flea market with the possibility of violence.
Anything to add?
After years of being in the survival world, talking with other preppers and writing my articles I found out that a great number of people  think something like "I cannot wait to go to trade when SHTF!"
In reality, one of the points of careful preparing is to delay the moment when you need to go out and trade as long as you can.
Why?
Because you're gonna need time to scan what is going on and who is who in the new collapsed world. You need to gather information about who is good and who is not, who is trusted and who is a scammer, what area is safe
If you need to go out on the 10th day in order to trade something maybe you are doing something wrong?
More from Selco 
More information about Selco
Selco survived the Balkan war of the 90s in a city under siege, without electricity, running water, or food distribution.
In his online works, he gives an inside view of the reality of survival under the harshest conditions. He reviews what works and what doesn't, tells you the hard lessons he learned, and shares how he prepares today.
He never stopped learning about survival and preparedness since the war. Regardless what happens, chances are you will never experience extreme situations like Selco did. But you have the chance to learn from him and how he faced death for months.
Real survival is not romantic or idealistic. It is brutal, hard and unfair. Let Selco take you into that world.
Read more of Selco's articles here: https://shtfschool.com/blog/
And take advantage of a deep and profound insight into his knowledge and advice by signing up for the outstanding and unrivaled online course. More details here: https://shtfschool.com/survival-boot-camp/
About the Author
Please feel free to share any information from this site in part or in full, leaving all links intact, giving credit to the author and including a link to this website and the following bio. Daisy is a coffee-swigging, gun-toting, homeschooling blogger who writes about current events, preparedness, frugality, and the pursuit of liberty on her website, The Organic Prepper. Daisy is the publisher of The Cheapskate's Guide to the Galaxy, a monthly frugality newsletter, and she curates all the most important news links on her aggregate site, PreppersDailyNews.com. She is the best-selling author of 4 books and lives in the mountains of Virginia with her two daughters and an ever-growing menagerie. You can find Daisy onFacebook, Pinterest, and Twitter.
One of my readers – Nick, commented on my last article and mentioned some details about his time during a hurricane in Florida. I asked him is he willing to write article about it, so I could post it on my blog because I thought there was some really valuable information too share.
Nick kindly responded.
I consider it as a very valuable and great written article.
He invested great effort in writing down details in it that actually show us some of the very basic and common problems that we might have during any kind of collapse.
I added my comments through the article (in italics) and few words after the article.
Nick – I guess I first started "prepping", before it was a well-known word, in late 1999 as the threat of "Y2K" loomed.  I was living in a brick apartment building at the time. I bought my first water filters and water storage containers, emergency medical gear (some bandages and gauze), some back-up canned food, a few hundred dollars in stashed cash, and a Romanian AK-47.  It was not much, but it was something.  If the world was going to melt down, I wanted to be able to cover at least some basics.
Selco – It is great start for any "beginner" prepper, actually it covers basics in most of the fields of "survival".
We can do philosophy for days about what man who is start in prepping actually needs to buy first, but it is basic-weapon, some food, some medicine, something about water and something about food, and some cash.
And then to build on that.
Nick – Fast forward to the 2004 Florida hurricane season when a "then-record-setting" four hurricanes hit Florida in one season.  I had my Y2K preps still, and after power went out from the first hurricane, I added a generator and some stored gasoline.
At the time I was living in a cinder block single-family home.  Hurricane Charley was the worst of the bunch, tearing apart buildings, lifting roofs, scattering debris far and wide, taking down power lines and trees (most of which seemed to end up in the streets), and removing power from neighborhoods for anywhere from a few days to several weeks.  And this was just the central part of Florida… things were much worse on the coasts where these storms initially impacted.
Still, I felt relatively safe in my sturdy cinder block house.  It weathered the storm well, although the roof almost lifted off as a tornado destroyed a huge tree in my back yard (I was in the living room in a leather motorcycle jacket and helmet to protect me from flying debris if the roof came off).  A gasoline generator kept the refrigerator running for days, and just as the food and gasoline was about to run out, the power came back on and everything started returning to normal.
Selco – Having generator in that event was great thing, and I like the idea how you used it (to keep food ok as long it is possible), we all just have to keep in mind  that maybe if that event was more serious fact that you have running generator could attract unwanted quests (noise of running generator means fuel, means possible interesting things in house for intruders)
Nick – Fast forward again to the 2017 Florida hurricane season.  By this time I had been "prepping"for a few years, prompted mostly by Selco's SHTF School which I purchased access to on advice of a friend.  It was the most eye-opening experience in all my prepping so far.  His first SHTFSchool program was gripping in it's simplistic honesty…
I listened to several lessons over and over again just to hear the real emotions he felt during his time of survival in a besieged city.  His second SHTFSchool program was enlightening and thought-provoking in it's expanse and detail.  Many times I listened to certain lessons over and over to be sure I fully consumed all they had to offer.  Even today, when Selco posts a new blog article, I go to it eagerly and immediately.  There is no more powerful lesson than "real experience", assuming you survive it… and Selco has.
My main concerns in "prepping" had been long-term societal meltdown and the assumed ensuing chaos.  Whether from economic collapse, EMP, civil unrest… whatever the cause, the result I was prepping for was the same… long-term self-sufficiency.  By 2017 I had amassed enough "stuff" to consider myself "quite well prepared"… not as well as some, but certainly more than the average guy on the street.
I had several weaknesses, though… no secondary bugout location, and no network of nearby "prepper friends".  People in my area have not experienced much real hardship, therefore they don't see the need to "prepare".  They spend their time and money on pleasures, then scramble for solutions when trouble arises… so there are not many people to establish "prepper camaraderie" with.
Selco – I definitely agree with your concerns. One of the mistakes in prepper community is that lot of them are preparing for specific (and sometimes low-probable ) events, and by that they are "missing" some preps and plans.
"Societal meltdown" sounds good as a starting point for preparing, to build more on that thought let's say good thought is that we need to prepare for event when "there are gonna be more people then resources, and as a one (most important) result there s gonna be violence"
Nick – When the 2017 Florida Hurricane season started, I was somewhat "ho-hum" about it… another summer, another storm season.  "Whatever."  Been in Florida for 30 years now, no big deal.  Plus, I'm "prepared to the gills", right?  No worries, I thought.  I was ready for anything.  I had a great get-home bag and plan (in case something happened while I was at work), I had a ton of diversified supplies stashed, I had a big lake nearby for water and fish, there's a hospital a few blocks away, lots of undeveloped land to hide in for a while if things get crazy… no worries.
Oh boy…. was I wrong.
Selco – I have been there, and fact is that majority of us are gonna be there again, in the place and moment when you realize that " everybody has a plan until they get punched in phase".
Often comes to good old "adapt and overcome".
Nick – Hurricane Irma started off looking like it was going to skirt past the south part of Florida and disappear into the Gulf of Mexico.  We watched it for days… we all have weather apps in our phones.  I was watching 5 different apps as the storm tracked, and actually bet my work friends it would zip past South Florida and head out into the Gulf.  I was more concerned about the poor souls in Texas and Louisiana than us in Florida.  But then at the last minute it did a crazy thing… it cut a 45-degree north turn and headed straight up the Florida peninsula.  Projections were anywhere from "running the west coastline" to "straight up the middle toward Orlando".
That's when the chaos began.
The Governor of Florida issued evacuation orders for southern Florida.  The streets became clogged with "storm refugees" trying to escape.  Florida has water on three sides… the only way to escape is "up/north", and there are not a lot of roads you can use to do that.  The Florida Turnpike was clogged nearly dead stop for 2 days… back streets through the countryside were bumper-to-bumper.  The four-lane road that runs through my town was clogged northbound for 1.5 days with endless lines of cars full of people and belongings… it never stopped.  Day and night they came.  I had no idea there were so many people in south Florida, and that it would be so hard to get them out of an area.  I wondered about the simple things… will they get out in time?  Where are they going?  What about gas?…most cars were idling in bumper-to-bumper traffic… where are they going to get more gas?
The gas stations had been sold out of gas the first day of the evacuation, and it was hard for the tanker trucks to get more out to them. Bottled water was gone from almost everywhere, canned food was gone, bread was gone, batteries were gone, flashlights/headlamps were gone, the camping section of the local department store was stripped of everything from camp stoves/propane bottles to dehydrated food to sleeping bags to bug spray… all the normal "panic buying" stuff was gone.  I wasn't worried, I was just out picking up a few things to top off my stash… but I was concerned about the rest of the population around me.
Selco – It seems to me that you missed the moment to "bug out", usually it is not moment when everybody else chooses to bug out. It is bit before them, or sometimes even after.
Nick – I went home and put the pre-fitted plywood boards over my windows.  I charged my emergency lighting systems. I checked my long-term food preparations and stored up/treated some backup water. Everything looked good, and I wasn't expecting anything bad… as hurricanes travel over land, they weaken… I was expecting a Category 2 or 1 storm by the time it got to me.  But then the bad news came….
Projections were saying possible Category 3 winds at my location, within hours.  That's a problem.  My house is overhung by several enormous Live Oak trees that have been here for a very long time.  The house I was in at the time of Hurricane Irma is totally wood and built about 95 years ago.  The overhanging trees are at least that old.  They are also huge with very, very thick overhanging branches.  If one big branch were to break off it would go through the house, and if one of those trees were to fall on the house, it would be complete destruction.  I had decided that if the projections were for Category 3 winds or better, I would "abandon ship" so as not to risk being crushed by falling wood.  And now, that Category 3 wind was being projected.
Ok, so I have about 2.5 hours to find a safe place to be.  I don't befriend my neighbors, and their houses are no better off than mine anyway.  I don't want to go to a buddy's place, because the closest buddy is 45 minutes drive away… if this storm is bad, and the roads are blocked like they were after Hurricane Charley, I might not be able to get back to my house for days.  I had not packed for a bugout since my stuff is largely at home… I had planned to stand fast in the event of disaster.  But the overhanging trees said I had to get out… being potentially crushed to death by trees was not an acceptable scenario.
I went online to check for local hurricane shelters (fortunately the storm had not gotten bad yet, and internet was still up).  I found two possible places and went to the closest one… it was a high school made of cinder blocks… very sturdy, and big, and it was less than a mile from my house. "Cool… if the roads are trashed afterward, I can still walk back to my house to protect it from looters."  But since I had not made a bugout bag, I had to put one together fast.  Food… but how do I cook it?  Can't make fire inside…. need food that doesn't require cooking. Fortunately I had some emergency rations.  Clothing… how much do I need?  I might be there for a day.  Water… how much to bring?  No telling if running water will be in stable supply after the storm.  Protection… need to pack a pistol… never know what I'll encounter on the walk home.  Money, cell phone, backup battery pack for the cell phone, sleeping gear… I saw one lady online had a tent set up inside a shelter so she had privacy…. a good idea.  I packed a tent and a light blanket.  And a poncho. And a headlamp.  And toilet paper.  And anything else I thought was essential.  I had never been to an emergency shelter so I did now know what to expect, what would be provided (if anything), or for how long.
 Selco – It is good that you choose to "abandon ship", because lot of folks may not choose that (fear for stuff in house etc), checking for shelters (on still working) internet is cool.
Nick – Time to do a recon trip.
I drove to the shelter to check it out.  Outside were four big Army National Guard vehicles and 3 police cruisers.  This didn't look too good… I felt like I was "swimming into the jaws of the shark, not toward the safety of the shoreline".  It was raining and windy… the storm was about 1.5 hours away now.  I walked up to go inside, then had to turn around and go back to the truck… "no weapons allowed inside, even if you have a concealed carry license" the sign said.  It was looking worse by the minute.
After ditching my pistol in the truck, I went back inside and was immediately faced with several Army National Guard soldiers in full uniform.  Behind them, three local police officers. Near them, a pair of folding tables with several frazzled-looking young women handling lists of "this and that".  I walked around surveying the place, which caused the soldiers and police to watch me in turn.  There seemed to be snacks available for purchase as desired, and there was a white board with writing on it listing mealtimes… lunch, dinner, and breakfast.  I asked one of the ladies "You're going to serve meals?"  She said "oh, yes… we don't want you to go hungry."  How nice. She started describing the menu, but I didn't really hear her….
"How many people are you expecting?" I asked.
"About 300 to 400".  There were maybe 20 or 30 in the gymnasium of the school already.  I estimated capacity of the floor space to reasonably be about 300.  400 would be cramped and potentially invite "personality clashes".  Of the 20 or 30 people already there, about 1/3 of them looked like trouble or idiots… too high a percentage in my estimation.  I went to check the rest room facilities… what would that be like for 400 people?  In a word, "terribly inadequate".  Just three toilets in the men's room, and other areas of the school were marked "inaccessible". There was already a homeless guy in the men's room taking a "sponge bath" and making a mess of the place, and the real crisis had not hit yet.  This was not looking good.
I went back up to the ladies at the desk and asked them what I needed to know about staying there.  If I decided to stay with them, I had to sign in…and if leaving I had to sign out, but I'd likely not be leaving… at least not for 24 hours.  "The Sheriff has issued a curfew for 24 hours… you'll be with us for that duration."  Oh, great… locked in here with no ability to leave under threat of police and soldiers.  Not looking good at all.  Still, it was that or risk being crushed to death by falling trees.  I was beginning to accept the idea of the shelter.
…but then the bus came in.  A school bus.  And another school bus behind it.  When the doors opened what trailed out was a stream of people that I am certain were from the local drug rehabilitation center.  All ages, both genders, dressed every crazy which way, many babbling to themselves, most carrying nothing, some carrying bundles of stuff wrapped up in sheets, none dressed for the weather… it was like watching a clip from "The Walking Dead", if it had a "psychotics" episode.  God bless these poor souls, but it was shocking to see.  I asked one of the soldiers "Where are these busses coming from?"  He was busy staring blankly at the new arrivals… "I don't know…" he said flatly and quietly.
That was it… I was out.  No protection allowed, insufficient toilets, and 24 hours of "forced safety" in the close company of questionable characters…. that's not for me.
I drove back to my house and pondered possible answers.  There was another school designated as a shelter 11 miles away, but likely the same rules and a much longer walk back to the house if the roads were blocked.  I had to find a place to hide from the storm that wasn't an "official shelter", and I figured I had about an hour to find it.
Selco – Yeah, this may look as a tough choice, for me personally it would be easy choice, even if that means I would need to crawl in some hole somewhere I still would not choose to stay without weapon with bunch of other people, without control when I can go out, with armed people who control that. More about this later.
Nick – I tossed my hastily-formed bugout bag into my truck, grabbed a pair of tall waterproof boots and a heavy duty poncho, some beef jerky and a canteen of water, and drove into town.  I had been scouting out hiding places the day before the storm, just in case I needed to tuck my truck into a cubby-hole somewhere for a few hours.  The places I had scoped out were already occupied by people with the same idea I had… "hide your car from damage".  Drat.  Now what?  Well, I decided to play it by ear.  I went back to my house, pulled out some panels from my fence so I could drive through, parked in my own back yard out of the reach of potentially-falling trees, and settled in to wait it out.
Selco – You had good idea there, to check day earlier about possible spaces for your truck
Nick – The storm started promptly and in about 2 hours things were going badly.  The wind was up, the rain was thick, power lines and transformers were blowing up with buzzing zaps and green/blue/white fireballs… everything was dark and the rain was sheeting white.  Pieces of palm trees, and small branches from oak trees, were bouncing off my truck, its doors, and windows.  Then somewhere down the street I heard a tree tear apart… that splintering crashing bang of something sturdy completely failing from stress and pressure.  I had to move out… I was too exposed in my yard, and things were getting worse every 10 minutes.
I drove out of my yard and just followed "instinct" into town.  The first thing I came upon was the tree I heard shatter… it was large, and laying across the street in front of me.  The rain was so thick I had to get within two car lengths of it to see what it truly was.  Then I had to back up and take a different route.  I was headed into the wind so my truck was not rocking much, but the rain was so thick I had to drive slowly, even with the wipers on "high".  It was a number of blocks before I was in the little "downtown" area of my town.  There had to be something I could park under/into for a few hours.  I even prepared myself for being confronted by homeowners if I needed to shelter on the side of their house.
Fortunately, I didn't have to.  I found a small service driveway on the leeward side of City Hall.  It was right up close to a 5-story high building made of solid brick, and the wall was wide too.  On the other side of that wall was a huge long building, so there was plenty of sturdy protection.  I used my phone to google a satellite image of the top of the building looking for nearby rooftop equipment… air conditioning units, etc… anything that might come loose and tumble off the top of the roof onto my parked truck.  Nope, looked clean… nothing close enough to worry about.
I parked, shut off the lights, kicked the seat back to lower my visual profile, locked my doors, chambered a round in my pistol (I had taken the rifle out of the truck due to curfew…. if I'm stopped, it's easy to explain a pistol, not so easy to explain a rifle), and set my snacks, water, and poncho nearby to wait it all out.  The storm continued to grow in strength, but where I had my truck parked was so calm there was hardly any wind at all.  Thin, straggly bushes near my truck door were hardly even moving while bushes and trees "out in the wind" were being twisted apart.
The storm intensified steadily and rapidly.  If I remember correctly the winds were 88 MPH (miles per hour) steady, with stronger gusts.  You could tell when the stronger gusts hit…. the rain started blowing nearly horizontally, debris from buildings, yards, and trees would fly or roll by, and street signs would flex and rotate in ways you would not think possible.  In the distance there was the sound of crashing and snapping trees.  Flashes in the dark distance indicated more power line damage.
This went on for hours throughout the night.  I drifted in and out of sleep.  Some time in the wee hours of the morning, still during the darkness, I noticed the steady howl of the wind was lowering… the speed was reducing.  Phone apps said wind speed was down into the 60 MPH range.  Good, it's lessening…. I planned to go back to my house once it got into the 40 MPH range.  I needed to see if anything had fallen through that flimsy wood structure.  In the meantime, I went back to sleep.
I awoke a short time later… wind and rain were still blowing but it was driveable.  I sat up and rubbed my eyes and prepared to roll out toward home, just a few blocks away.
Then… the cops showed up.
Initially they drove up at a 90 degree angle to my truck and stopped… they obviously saw me move inside it.  Drat…  So I sat fully up, smiled, and waved at them, hoping they would see I was okay and they would go away.  Nope, they pulled up next to my truck, facing the opposite way from me, and rolled down their passenger side window.  There were two of them in their "emergency truck"… a Ford diesel pickup with police markings all over it, as well as all the off-road goodies… lift kit, off-road tires, basher bumper, spotlights, etc… I didn't know our little town had a truck like that… where do they hide these things?
I rolled down my passenger window so I could hear them, and I kept my hands on the steering wheel so they would not get nervous…
"What are you doing out here??" the passenger cop yelled over the wind.
"Waiting out the storm."
They both stared at me in silence.
"Why aren't you home?" he yelled.
"I live in a small wooden house under huge trees… I didn't want them falling on me."
They stared at me in silence.
"It's right down the street, a few blocks away", and I pointed in the direction I was referencing.
They both turned their heads and looked down the street into darkness and fallen trees.  And they  stared that way for an oddly long period of time.
Eventually I said "…. and I was just leaving to go there now, when you pulled up."
They turned to look at me….
"Good!" the passenger-side cop snarled.  He closed his window and they drove off.  I likewise closed my window, turned on my lights, and slowly drove off and back home. I thanked God for his help with the cops… they could have easily arrested me for breaking curfew.  For a few minutes there it felt like the Star Wars scene: "…these are not the droids you're looking for…."
I arrived to find no trees perforating my house, but a ton of "yard debris" everywhere, (took days to clean up), portions of my fence blown down, power out, and some streets blocked by fallen trees.  My suspicion that trees could fall was substantiated, but thank God, none of them were on my house.  I parked in my back yard and went inside the house to check on things… the high waterproof boots, large poncho and waterproof headlamp came in handy for that, but I could have used a face shield to deflect the wind, rain, debris, and roof runoff that was still happening during the steady 40MPH winds.  There was no power on inside, and there were some roof leaks, but overall the place was intact.  God is good.
POST-EVENT EVAL:
While I was sheltering in my truck near the City Hall, I made a list 3 pages long of things I needed to do/learned from this.  I was honestly somewhat embarrassed that after 5 recent years of "focused prepping", I found myself without a solution for the most likely Florida disaster… a bad hurricane.  That really rattled my "prepper confidence", which in hind sight is a good thing.  It shook out weaknesses I didn't know I had, and introduced a "conflicted" situation… curfew, but I can't stay in my house.  Below are just a few of the things I wrote on my three pages of notes.  Some apply to my hurricane situation, some don't, but were good ideas anyway.
1 -Stock up on quality "no perish, no prepare" foods in case you can't cook food where you are sheltering.
2 -Make an overnight toiletries kit, then make expanded versions to supply you for a week, then for a month.  Grab the one you need as you pack your escape bag.
3 -Make a bag of clothes for a day, then expand that to supply you for a week, then for a month.  Grab the one you need as you pack your escape bag.
4 -Make an overnight medical kit, then expand that to supply you for a week, then for a month.  Grab the one you need as you pack your escape bag.
5 -Stage these different levels of kit on shelving near the door so you can grab what you need and shove it all into your bugout pack, just like Selco suggested in his courses and blogs.  Time frames are: 1 day, 1 week, 1 month.
6 -Have tall waterproof boots, and an extra long poncho to cover your back pack and legs.
7 -Pack your electronics in a sealed ammo can and aluminum-tape the seam.
8 -Stock up on ethanol-free gas only.  Stabilize it, of course.  Plan enough spare fuel in the truck to get you out of a danger area without needing a gas station.
9 -Make trap doors in your hurricane window coverings for ventilation. (can also be used as observation ports/gun ports)
10 -Keep colloidal silver in a nose sprayer in your medical kit. (During the hurricane I took a nose-full of dirty roof runoff water and it gave me a nasal infection… spraying colloidal silver solution in my nose cured it in 3 days).
11 -Nose plugs, ear plugs, face shield (riot type) for being outside during blowing rain.
12 -Garden cart with non-pneumatic tires for pulling buckets of water from the lake to the house in case water/sewer services are inoperable.
13 -Have a hand-pump well installed on the property, hidden.
14 -Learn preservation of meat, fruits, and vegetables.  Survival food has only but so much inherent nourishment.
And last but not least, Selco has always advocated a remote bugout location to get to ("use your bugout bag only to get to your bugout location and your stash there"), and "support people" around you to band together with when SHTF.  He is absolutely right, but those two things I lack.  I live in American suburbia… it's not like other places where you can "head for the hills between villages" and have a cabin there. It doesn't work that way where I am.  Land with buildings on it is very, very expensive… most people have trouble buying one home, much less a backup building on land elsewhere.  And most land that you can see is owned by the government, companies, ranches, or private individuals… individuals that will shoot at a stranger very quickly even during normal times.
I have two buddies I could flee to in an emergency, one is 45 minutes drive, another is 90 minutes drive… that would effectively cause me to abandon much of my prep gear, apart from what I could take in my truck… that is, if roads are passable in the first place.  So there is much to think about… it was indeed "healthy embarrassment" to my "prepper pride" to find myself stuck out in a hurricane in my truck, trying to hide somewhere like a rat.  It just goes to show… you can be as "prepared" as you want, but God and nature can still throw you a curveball of circumstances.
Selco – I understand your point there-you are prepper for years and at the end you end up sitting in your truck "hiding like a rat".
 I would not be so "cruel" there, you choose lesser evil in that particular moment and it worked good at the end, you worked with what you got in moment.
 And lot of times it will be simple like that, you ll have to work with what you got.
 And yes, having luck will be always part of everything.
Nick – The best thing to have in any situation, I think, is an open, evaluative, creative mind and the Grace of God.  With these things you have an increased chance of survival… because you can't possibly gear up for everything.  Do what you can, think of everything you can, run scenarios to test your assumptions, plans, and gear, adjust as you discover and learn things, but for God's sake, don't get too stuck on one plan… because it could go to pieces quickly.  Think, try, adjust, trust your instincts, and pray… you'll increase your odds of making it through.  And don't keep all your gear/supplies in one "basket".
-"Nick"
Selco – All post event evaluation points are great and valuable, you realized on your own experience (nothing can beat that) how small things like dirty roof runoff water can complicate things, imagine how some leg wound from dirty piece of wood (debris) would complicate it, or even minor thing like wet socks (and no spare pair).
You mentioned more points in an email to me, so I'll go through them:
 Overconfidence in your preps?
 I would say that you were missing "speed" in making decision, you made right and great decision not to bug out (congested roads), to abandon your house (danger from fallen trees), not to take community shelter (no guns allowed, possible violence, lack of hygiene etc), you took your vehicle as your temporary shelter.
 All good decisions, but maybe (just maybe) you might plan to use your car a s shelter, prepare it earlier for that, scope earlier for possible "hide out" for your car, and "occupy" earlier that place (before others get there).
 In the equation of dangers at home because possible falling trees and that community shelter packed with people (different kind of people) and armed guard at the entrance (exit) and especially "no guns" rule I would too definitely choose my car and danger of storm by being inside that car.
 Preps are good to have, to have right mindset to decide what to do next is more important.
 Not thinking about worst case scenario, about abandoning your home?
Nobody like to "abandon home", people take it as a surrender often, actually it is about making decision what make sense in that moment.
 When you really adopt fact that you ll may be forced to abandon your home only then you can make really good plans for that, like BOB in "shelves system", because you cannot have "one bag for every situation", it is impossible.
 Other layer could be your car, it needs to be prepare for abandoning your home with things like extra fuel canisters (not so visible of course), blankets, food, water…
 After that next layer could be fact that you gonna be forced to abandon your car, so you can be prepared for that, small bottles of water instead of canisters of water, tarps, lightweight tent, backpack, small waist bag…
 You mentioned above tall waterproof boots and extra long poncho to cover you back pack and legs, yes, it is great, because at the end that may be all that you had from shelter and you started with your home, it is not important how poorly you look if you survived.
 Being a lone wolf
Yea, it is tough if you are alone, not impossible (especially in short term events) but it is tough.
I can only give you two advices there: try to connect with other people, if that still is impossible then just try to be as better is possible in your preps.
There is no other advice, no magical solution.
You are mentioned that you have two buddies (45 and 90 mins driving from you).
It is something, it is some network.
Having all preps in one location
I already understand that you are living in "suburbia" that it is not some perfect prepper settings, but is there option of having some stash hidden somewhere?
Even if that means taking some of the stuff (few boxes) over to one of your buddies?
Yes, it is big "flaw" not to have some stash hidden somewhere.
If any other readers have 'real life experience' they would like to share, feel free to submit your thoughts to toby@shtfschool.com for consideration on the blog.
Updates via Email